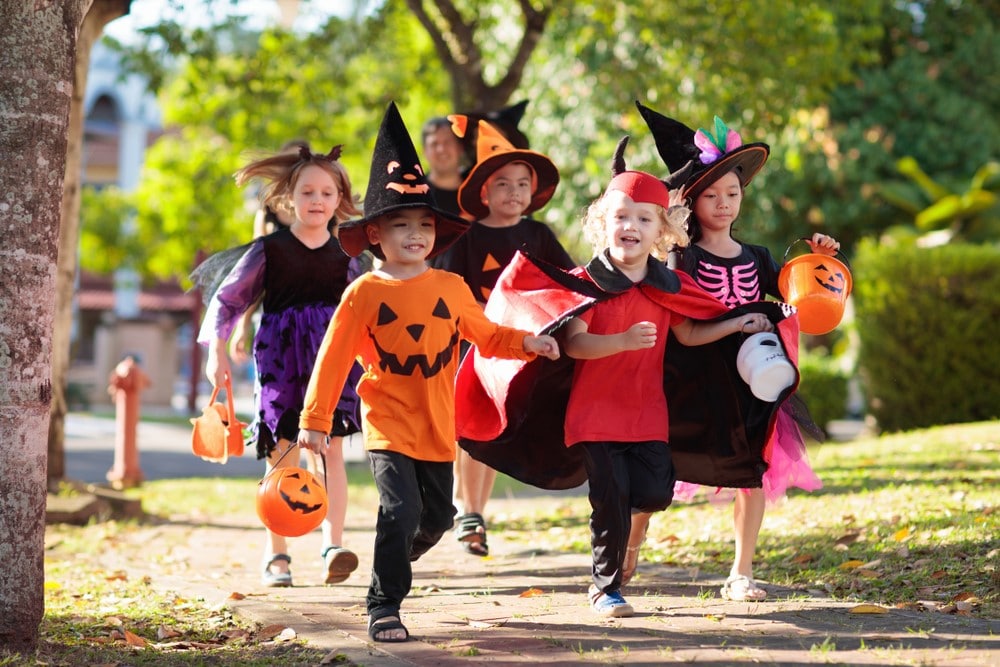 Did last year's Halloween festivities (or lack thereof) Starburst your bubble, turning your normally jovial tweens into seriously Sour Patch Kids? Well, 2021's Halloween should bring you lots more Almond Joy, as the CDC says it's mostly safe for kids to trick-or-treat this year.
So, to make up for lost time, it'd be Smarties to plan this one to be as much Fun Dip as you possibly can. For most parents, that means Skittle-daddling out of the house and into a neighborhood for trick-or-treating. But where should you go?
If you're looking for the best South Florida neighborhoods for trick-or-treating near you, we've compiled some of the biggest candy-heavy hotspots around Miami to check in with on Halloween night. From the affluent communities of West Palm Beach to the condensed streets of Ft. Lauderdale, these are the neighborhoods that'll hand out a sugary Payday to trick-or-treaters.
Palm Beach
One of the wealthiest cities in South Florida is also one of the oldest. The average age of residents in Palm Beach is 70 years, which means lots of retirees' porches lit up come Halloween night.
Some of the best Palm Beach neighborhoods for trick-or-treating include:
Pembroke Pines
Home to famed MLB player Manny Ramirez, Pembroke Pines is one of the most heavily populated towns in South Florida – and that equates to a lot of densely packed houses, which is ideal for trick-or-treaters.
These are a few of the better areas in Pembroke Pines to trick-or-treat:
Coral Gables
Due to their size, the stately manors and large mansions in Coral Gables are hit or miss every Halloween. However, if you get lucky and head to the right street, your trick-or-treating could land you pillowcases of full-sized candy bars. You can even head to
Miracle Mile
for the town's Halloween block party, which has been held downtown for over two decades.
In the past, these have been known as some of the best Coral Gables neighborhoods for trick-or-treating:
Jupiter
Recognized as one of the "
Happiest Seaside Towns
" in America, Jupiter offers numerous trick-or-treat options for families and older teens alike. If you want to skip the Palm Beach crowds, give Jupiter a go.
Some safe Jupiter neighborhoods for trick-or-treating include:
Abacoa – The North Palm Beach Heights area is a great, small-ish location for trick-or-treating in Jupiter, FL
New Haven - The small community of New Haven is a nice, small place to trick-or-treat
Paseo – Easy to navigate, the neighborhoods comprising Paseo are nice options for older kids
Fort Lauderdale
Although it's a popular tourist destination, Ft. Lauderdale doesn't ditch its residents on Halloween. It's a cultural landmark that just so happens to provide families with lots of opportunities to see Halloween decorations and nab candy by the handful.
Locals love these Ft. Lauderdale neighborhoods for trick-or-treating:
Victoria Park – The town is known as one of the safest South Florida areas for trick-or-treating, particularly south of Holiday Park
Harbor Beach - East of 17th street, over the bridge, is a great Halloween sight and trick-or-treat hotspot
Rio Vista - This affluent neighborhood has a tradition of being one of the better local spots for trick-or-treating in Ft. Lauderdale
Hollywood
If your grandkids are visiting you in Aventura this year, and you want to take them out trick-or-treating, try your luck in Hollywood. It's smaller and less boisterous than Miami yet has more single-family homes than the condo-heavy Aventura area, so it's perfect for a quieter Halloween night.
Some favorite Hollywood trick-or-treat neighborhoods include:
Not finding a suitable local South Florida neighborhood for trick-or-treating? Sign up for Nextdoor to use their new Halloween Treat Map, and you can find some great areas near you to trick-or-treat this year.
About Braman Genesis
At our
Miami luxury car dealership
, we proudly serve South Florida with superb deals on
new Genesis
and
used vehicles
, expert
auto service
, and excellent
car financing
rates. To receive a quote or schedule an appointment,
contact the Braman Genesis team
at (786) 574-3093 today.